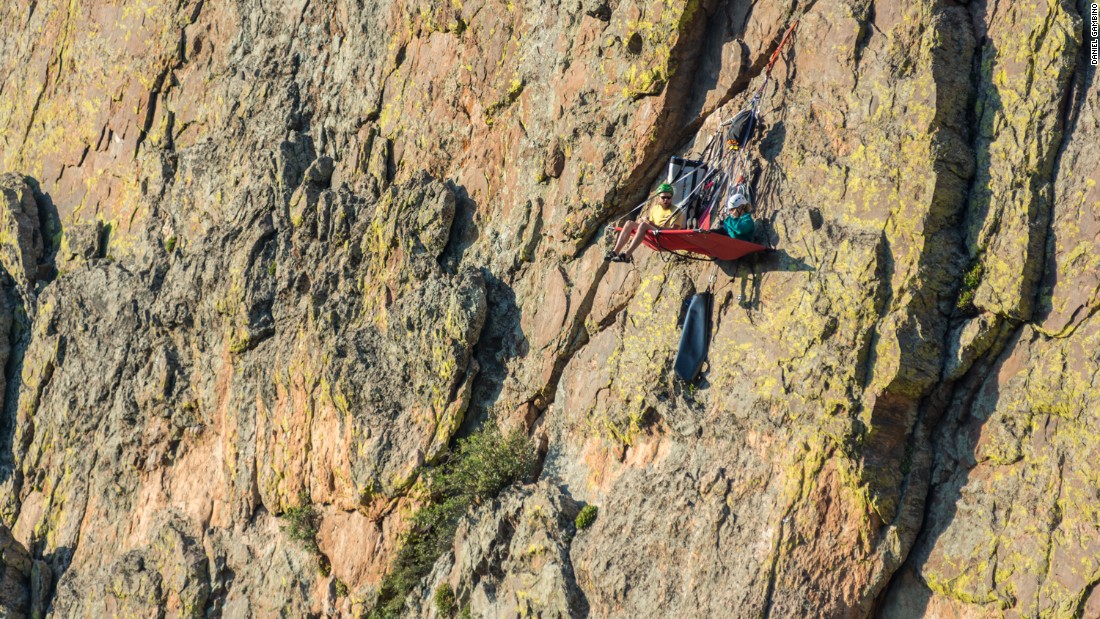 Estes Park, Colorado (CNN)It takes a certain kind of person to scramble up a mountainside, rappel down to a nylon cot no bigger than two sleeping bags (called a portaledge) and spend the night on the side of a cliff.
Today, that person is me, along with my sister and our guide. And I have to admit, even though I find most extreme sports very appealing, this one has me thinking twice.
It's called cliff camping, a truly epic experience, but it's not for the faint of heart.
For daring big-wall climbers, it's been commonplace for decades. When they trek up walls too tall or too difficult to climb in a single day, they simply camp on the cliff face.
It's something that doesn't faze daredevils like Harry Kent, owner of Kent Mountain Adventure Center in Estes Park, Colorado, who has been climbing all around the planet for the past 45 years.
"Climbing for me is like brushing my teeth," he says. "It's something I just do as part of my life."
With that kind of passion, it comes as no surprise that in July 2014, his company was the first in the nation to let inexperienced climbers give cliff camping a go. It's something that would normally take five to 10 years of climbing to build up to.
The unknowns: Potty breaks and beyond
Once I get used to my new sleeping quarters, I start to relax. We had already discussed that I would sleep (or stare endlessly at the top of the tent) on the edge side, while my sister would take the wall side. Believe it or not, it feels quite cozy.
"I've never had anyone fall off the ledge," Sanford points out. "I've heard stories of climbers, typically couples, getting too rowdy and causing the ledge to flip, but I've never had anyone just roll off. If you were to roll off in your sleep, you would fall only a few feet before hitting the end of your tether."
Still, it's a thought that pops into my head every time my sister moves.
Fortunately, I remain securely snuggled in my sleeping bag all night. The winds pick up enough that we pull the tent flaps down. Voil! It is transformed into a cool, little fort, hanging high above the tree tops.
Come morning time, we are treated to a brilliant sunrise, veggie omelets (carefully prepared in a Jet Boil stove that dangles from the cliff) and a visit from the mama falcon. She's in full-on protective mode right now, so we expect her to attack the drone documenting our experience. She swoops pretty close to the buzzing device, but surprisingly leaves it alone.
Soon after, we discover the most challenging part of all is the way down. Since yesterday, we have only been sitting or snoozing on the camp cot. Now, we must stand on this wobbly rectangle and rappel down.
I slowly stand. It dips. And I nearly lose by balance. Without much grace, I lean back and begin the hopping motion that is rappelling.
Sanford reminds us that fear is completely normal.
"Being afraid of heights just means that your brain works properly," he says. "As humans we aren't supposed to be comfortable hanging off steep cliffs."
Back on the ground, we are all smiles, all day long.
Months later, I'm still telling anyone who will listen about my gravity-defying excursion. Hands down, it's one of the most rewarding experiences I've ever had. And it's become a new way for my friends to introduce me: 'This is Sarah. She does crazy things like spend the night on the side of a cliff.'
Yes, that's me. And I would do it over and over again.
If you go
Kent Mountain Adventure Center
offers
cliff camping
from May through September. The 24-hour experience is $1,200 for one person, or $800 per person if you have two people in your party. All food and gear is provided.
For something a bit tamer, consider the "Just Lunch or Dinner" program where you picnic on a portaledge only 40 feet in the air. Prices start at $295 for one person.
Read more: http://www.cnn.com/2016/10/18/travel/cliff-camping-estes-park-colorado/index.html