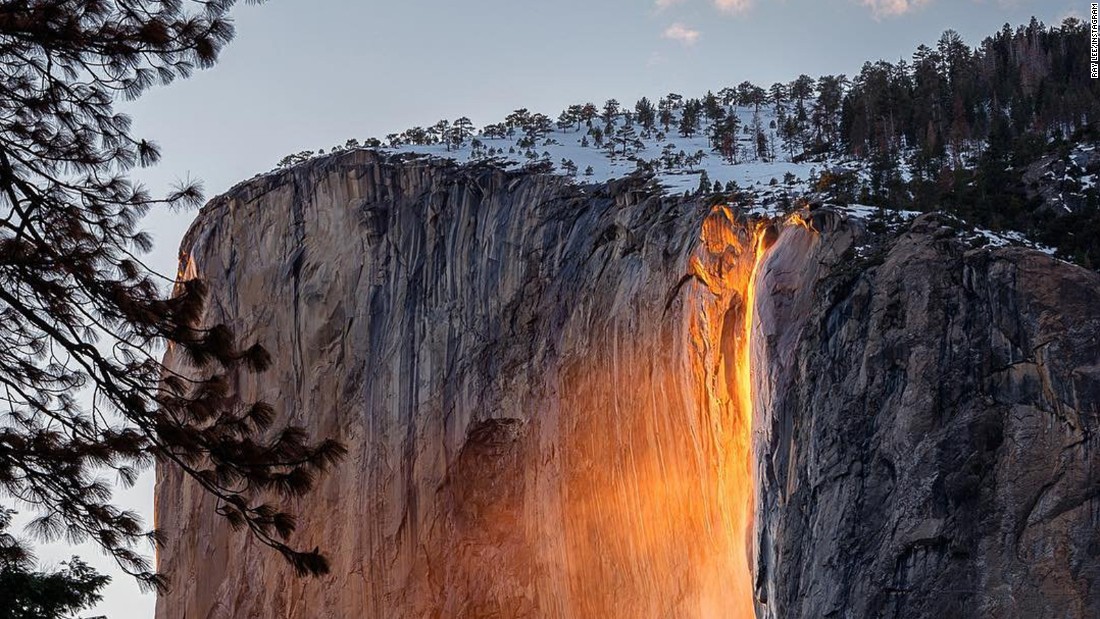 (CNN)It's the time of year for the mesmerizing phenomenon "firefall" to illuminate Horsetail Fall in Yosemite National Park.
The natural effect gives the illusion that bright orange lava is flowing off the cliff at the park in California. This magic trick is a natural occurrence that only happens for a couple of weeks each February and draws hundreds of visitors each night.
The "firefall" comes to life when the angle of the setting sun causes light to hit the waterfall just right; making for some amazing Instagram-worthy photos.
The Return of Firefall I had published photographs of this phenomenon last year. This year, I feel fortunate to have been one of the firsts to witness it. In fact, I just drove back home after seeing this unforgettable moment. This is the Horse tail waterfall in the Yosemite National Park. Every year for a few days in February, the sun sets at a certain angle and illuminates the waterfall in luminescent orange and red, making it look like a molten lava. More information on this phenomenon is here, http://news.nationalgeographic.com/2016/02/160219-yosemite-firefall-waterfall-sunset-pictures-nature/. #westcoast_exposures #majestic_earth_ #cool_capture_ #photoarena_nature #naturewhisperers #inspiring_photography_admired #dream_image #visitcalifornia #jaw_dropping_shots #gottolove_this #splendid_earth #thebest_capture #b_picturess #igs_america #ig_unitedstates #greatshotz #special_shots #phototag_it #wildcalifornia_ #NikonLove #globalcapture #ig_exquisite #ig_impulse #viewbugfeature #usinterior #moodygrams #rawcalifornia #firefall #firefall2017
"The waterfall is bigger than it has been in a long time due to all the rain and snow we have received," said National Park Ranger Scott Gediman.
Got lucky today and saw the firefall after hiking the upper Yosemite falls trail. It's great to be back! . . . . #Yosemite #yosemitenationalpark #findyourpark #optoutside #adventure #adventuremore #mountains #mountainman #neverstopexploring #rei1440project #formomentslikethis #hiking #exploring #instagood
"It has gained popularity the last few years due to social media," he said. "People come from all over the world to see this."
Looking to test out your photography skills?
If you want to capture the yearly spectacle, the
park's website
suggests the best view is from the park's El Capitan picnic area. Make sure you get there early, before the park gets crowded.
"I've seen a few photographers get here at 9 a.m. to claim their spot for the sunset," Gediman said. "All we ask is you be respectful to the park and make sure what you packed … you pack up and take out."
He also suggests visitors bring food, water, a change of clothes and tire chains, because of the weather conditions.
Photographer Ray Lee, who made the trek to the park this weekend, faced tough weather to make it there.
Firefall 2017- it's that time of year again for the famous #firefall #yosemitenps. This trip almost didn't happen due to the crazy road conditions at Yosemite. There has been so much water that a lot of the roads were closed due to mudslides. Somehow we made it here at the very last minute. I still think the mist I saw last year was better but it wasn't bad this time either. Please scroll down on my feed to see previous years firefall if you like. Had and awesome time with some fun and talented photographers @naminou @jc.liang @sinanuong. Was suppose to meet up with a couple more but got lost in the rush. For those that plan on going to see this, be careful since there has been so much water that some of the roads are falling apart. Had an awesome weekend!!! – A special thank you to my wife for letting me go on these crazy fun trips before I get too old to travel. – – #usaprimeshot #pixworld_ #igworldglobal #artsyheaven #heatercentral #ig_color #worldcaptures #ouramazingearth #earthofficial #nikontop #awesome_earthpix #special_shots #Earthpix #wildernessculture #travelstoke #foxnews #abc7now #ktvu #gottolove_this #westcoast_exposures #sunsetstream_westside #yosemitenation #globeshotz #Nationalparkgeek @nationalparkgeek #worldprime #yescnn @awesome.earth.pix #awesomeearthpix
"This trip almost didn't happen due to the crazy road conditions at Yosemite," he posted on Instagram. "For those that plan on going to see this, be careful since there has been so much water that some of the roads are falling apart."
Need to know the road or weather conditions?
Gediman said the park has that covered with a 24-hour hot line: 209-372-0200.
Read more: http://www.cnn.com/2017/02/14/travel/firefall-yosemite-national-park-trnd/index.html